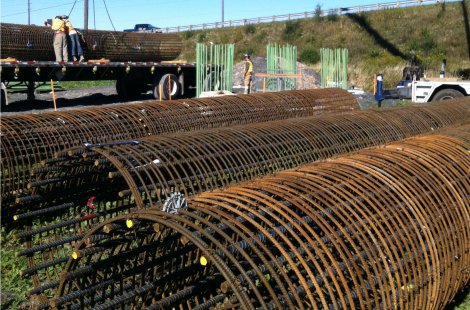 In the summer of 2013 Anchor Rebar Supply was awarded the contract for the supply and delivery of 121 pre-built caissons for the extension of Ontario's 407 electronic toll road (ETR).
Ranging in diameter from 1 metre to 1.8 metres and up to 19.5 meters long these caissons are being used as structural reinforcing for highway bridge piers. Premaufacturing the reinforcing offsite in Anchor's climate controlled manufacturing facility allowed installation contractors to save time onsite. Once the completed caissons were delivered they were simply lifted by crane into pre-dug piles, ready for concrete pouring.
In total, Anchor Rebar supplied 305 metric tonnes of prefabricated bar for this project. Prebuilding large diameter caissons for the 407 ETR extension is just one way that Anchor Rebar is reinforcing the future of infrastructure.